Principal Software Engineer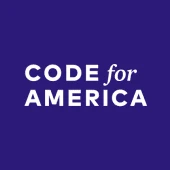 Code for America
Software Engineering
San Francisco, CA, USA · United States · Remote
Posted on Saturday, October 14, 2023
Code for America believes government can work for the people, by the people, in the digital age, and that government at all levels can and should work well for all people. For more than a decade, we've worked to show that with the mindful use of technology, we can break down barriers, meet community needs, and find real solutions.
Our employees and active community of volunteers build and transform government and community tools and services, making them so good they inspire change. We merge the best parts of technology, nonprofit, and government to help support the people who need it most. With a focus on diversity, equity, inclusion, and deep empathy for partners in government and community organizations and the people that our partners serve, we're building a movement of motivated change agents driven by meaningful results and lasting impact. At Code for America, you contribute to exciting work while learning and developing in a supportive and flexible environment. Our compensation and benefits are holistic and thoughtfully curated to represent our employees and our mission. Help us drive real generational change that lasts.
We're seeking Principal Software Engineers to lead on organization-wide technical efforts and strengthen our software engineering teams.
Code for America reached a voluntary recognition agreement with Code for America Workers United, affiliated with OPEIU (Office Professional Employees International Union, Local 1010), effective on October 22, 2021. We are currently engaged in negotiations towards our first collective bargaining agreement.
About the Role:
The Engineering team at Code for America uses simple, reliable technology to build better digital public services. Sometimes we build products end-to-end. Sometimes we do custom work, build prototypes, or deploy new infrastructure. Sometimes we provide technical consulting services. Everything we do shows what's possible when we take a better approach to delivering government services.
We are a remote-first organization with intentional gatherings and a headquarters office located in San Francisco. In this role you will take on technical responsibilities with enthusiasm and deliver with high output and excellence. You will define and give shape to technical problems and their solutions when there is ambiguity. You will gain a deep understanding of organization-wide needs and the context of the complex systems we work in. You will positively influence cross-discipline colleagues across the organization and enable better decision-making. You will be involved in all stages of our products' lifecycle: Research, design, prototyping, developing applications, tools, services or specialized utility programs that integrate with government systems at scale.
This role may report into either our Sr. Engineering Manager or Director of Engineering.
In this position you will:
Work well with ambiguity, enjoy simplifying complex product specifications into nonfunctional designs, technical strategies, guide cross-portfolio architecture decisions and technical specifications that persuasively articulate a technical approach.
You develop software with high output, high quality and high stability to maintain our uptime SLA.
You gain a deep understanding of organization-wide portfolio needs and simplify them into cohesive technical systems that can be leveraged by other portfolio solutions.
Develop technical strategies and guide technical architecture decisions across multiple workstreams and teams; and for the entire organization. You prototype to show what's possible.
You break down and estimate work for more junior engineers and positively influence cross-functional partners across the organization.
Contribute to the training and mentorship of junior software engineers.
Take on other duties as assigned.
About You:
Bachelor's degree in Computer Science, Engineering, Applied Mathematics or 10+ years related experience in the field of software engineering
10 years of experience with an OOP language like Java, Python or Ruby
10 years of experience with Cloud computing platforms such as AWS or GCP, or 2 years of experience with Aptible
Understanding of computer science and web fundamentals, from data structures to APIs
Eager in collaborating with others, provide technical and professional mentorship to others
Possess excellent written and verbal communication skills
8 years developing and deploying with Github, CICD pipelines with Circle.ci or Jenkins.
8 or more years working in Agile Software Development model, XP, or TDD
Experience optimizing performance, investigating, troubleshooting and fixing customer issues as a full-stack engineer.
Experience working with PII, creating secure systems, and handling security incidents and improvements
Write clean, maintainable, and well-architected code
Write concise documentation
It's a bonus if you have:
Led a team as a tech/engineering lead or engineering manager
Familiarity with pair programming and test driven development
Experience with Separation of Concerns, Service Oriented, and Component based Architecture
Expertise in Ruby on Rails, Java Spring, and/or AWS is a bonus
Experience with making government services better for people who need them most
Experience with the justice system, social safety net, or other mission relevant experience
Familiarity with AI, GAI, Data Factory, Software Connector Strategies
What you'll get:
Salary:
Code for America's salary bands are transparent internally as a part of our commitment to diversity, equity, and inclusion. We are happy to extend this transparency during the recruitment process. As a part of our equitable hiring practices, we aim to target the midpoint of the 2nd quartile of the range for all new hires.
The targets for this role are dependent on the market/geographic location. The targets for this role range from $143,884 to $176,138 per annum.
Benefits and perks:
Values:

Leadership and teammates who value Equity, Inclusion, and Diversity (DE&I)
A collaborative, cross-functional, hardworking and fun environment

Medical & Retirement:

Full benefits package with 100% coverage towards select medical, dental and vision plans and contributes 80% of the cost towards dependent and family coverage
401k plan with matching funds up to 3%

Professional development:

Bi annual 360 review process alongside compensation reviews
$1000 annual (per calendar year) stipend towards professional development
A manager and org-wide structure that supports and enables professional development

Flexible Time:

Unlimited Paid Time Off policy
Flexible working hours- Full time employees work 40 hours however we aim to hold all internal meetings between 10 AM - 3 PM PT
Code for America employees may work remotely across the US

Code for America employees may not work remotely outside of the US at anytime during their employment

Employee enablement support:

$200 stipend in first paycheck for remote environment setup
Additional equipment reimbursement of up to $500 for remote enablement
Cell phone and/or internet reimbursement of $50 per month
Equal Employment Opportunity:
Code for America values a diverse, equitable, and inclusive workplace and strongly encourages women, people of color, LGBTQ+ folks, people with disabilities, members of ethnic minorities, foreign-born residents, and veterans to apply. Code for America is an equal opportunity employer. Applicants will not be discriminated against because of race, color, creed, sex, sexual orientation, gender identity or expression, age, religion, national origin, citizenship status, disability, ancestry, marital status, veteran status, medical condition or any protected category prohibited by local, state or federal laws.